"El problema de la educación es que lleva largo tiempo; gasta la mejor parte de tu vida y cuando termina, comprendes que más te habría beneficiado entrar en la banca."
Philip K. Dick. La transmigración de Timothy Archer, 1.982, Ed. Edhasa, Barcelona, 1.984, p. 12

Yo, he visto cosas que ustedes los humanos no creeríais...
Naves de ataque en llamas sobre el hombro de Orión.
He visto rayos de mar centelleando en la oscuridad cerca de la puerta de Tannhäuser.
Todos esos momentos se perderán en el tiempo, como lágrimas en la lluvia.
Es hora de morir.
Roy Batty en Blade Runner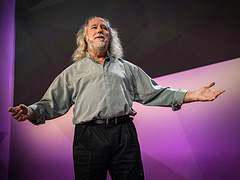 HOy me levanté pensando en el famoso adagio de "La energía ni se crea ni se destruye, sólo se transforma" , y se me ocurrió que si se sustituye energía por inteligencia también podría valer , y que probablemente si la inteligencia de las máquinas, la artificial intelligence , machine learning ... esta aumentando a pasos agigantados la de los seres humanos ande descenciendo, también, a pasos agigantados ... de lo que la situación en el globo terráqueo da muestras cada vez más aviesas y constantes ... baste mirar quienes ocupan los cargos diriGENTES de nuestra preSUNTA suciedad humana, lideresos y lideresas del mundo uníos ..por no hablar de los comunes ... en fin... como no se me ocurría otra cosa más animada , busqué una charla, en francés, me cuesta mucho más que en español (aunque pueden elegir en TEDX 13 idiomas subtítulos coreano ya era mu heavy, aunque no spanish) sobre inteligencia artificial y los miedos de los humanos, a que su trabajo lo hagan , mejor, o al menos, más coherentemente, ... no hablen del bien común disparando misiles tomahoks y otras lindezas, ...
Y recordé, el más complejo mundo de las cosas vivas, ..y un texto de Bateson de Mind and Nature (1979) "El cuento del caballo poliploide" y dos novelas y sus dos adaptaciones cinematográficas que me encantaron: "They Shoot Horses, Don't They?" (Ellos disparan a los caballos, ¿No?) de Horace McCoy. y ¿Sueñan los androides con ovejas eléctricas? de Philip K. Dick y de las que hubieron dos adaptaciones libres , que son dos grandes películas para reflexionar sobre el tema de la inteligencia y de las capacidades emocionales, sean estas humanas o no: They Shoot Horses, Don't They? (Sydney Pollack, 1969) que en español se tituló "Danzad, Danzad malditos" y de "Blade Runner"(Ridley Scott,1982) ... de las que escribimos en este blogcito hace tiempito ... domingo, 26 de diciembre de 2010
Epistemología & モⓈ下-ÊⓣⓘⓒÄ ℈dudadá (V): Danzad, Danzad malditos: Analistas, muertos, profetas, demiurgos, ángeles, Luciferes y gurús: iRedes
; el martes, 20 de agosto de 2013
Bailad malditos ! ... Kein deutsches Europa! DÉMOCRATIE PARTICIPATIVE BONHEUR COLLECTIF ET NOUVELLES TECHNOLOGIES
; el lunes, 28 de abril de 2008
Es hora de morir. Bolonia, EEES, Aprendizaje, Educación
; y el mas antiguo del miércoles, 1 de noviembre de 2006
[not] El cuento del caballo poliploide:El imperialismo Google desembarca en los wikis (I) . Jotspot Google
,,,
«La mayoría de los androides que he conocido tenían más deseo de vivir que mi esposa», piensa Deckard (Pág. 103).
Philip K. Dick, ¿Sueñan los androides con ovejas eléctricas?
" El analista debe ocupar el lugar del muerto"
(esta frase tiene dos lecturas: el analista para favorecer las expresiones y la definitiva cura de quien se quiere analizar debe ubicar cúal es el objeto causante de duelo, segunda lectura: las intervenciones del analista deben ser las mínimas, es el analizante quien debe hablar pues es el analizante quien tiene el saber de su problema solo que no lo puede reconocer; el analista en todo caso mediante transferencia posibilita la expresión del analizante y que éste reflexione y solucione lo que le aqueja, nunca un analista ha de ser un "guía", "coach" o "gurú" ya que lo que se busca es la libertad de cada sujeto; precísamente la cura que busca el psicoanálisis lacaniano es la del que busca curar-se y una señal de ello es que al final del análisis el analista deja de ser considerado "imprescindible", el psicoanálisis lacaniano es en gran medida una especie de
mayéutica
).
Jacques Lacan y comentario en la Wikiquote.
Aqui tienen esta conferencia de uno de los elegidos , de los lideresos TED X , que marcan, según los otros lideresos que los eligieron el FUTURE de nuestro mundo, en este caso un chico IBM ... dignos de explicarnos a los comunes danzarines malditos, que no somos sino ovejas eléctricas con las que sueñan los androides, , como será nuestro #NOfuture ... en fin, disfruten si pueden de las 2 novelas, el texto de Bateson, las dos películas y la conferencia, evidentemente ná de estos garabateos va por usté maeztro científico al que le deseo lo mejón y el máximo de éxito y
salúos y
salú
desde Zeviya calYFlato IndepenDiente
#laCunaDelPobreRío
█▄【

】▀▄▀ ▇☰ ☆

EZLN۞✞
IBM's Grady Booch is shaping the future of cognitive computing by building intelligent systems that can reason and learn.
Why you should listen
When he was 13, Grady Booch saw 2001: A Space Odyssey in the theaters for the first time. Ever since, he's been trying to build Hal (albeit one without the homicidal tendencies). A scientist, storyteller and philosopher, Booch is Chief Scientist for Software Engineering as well as Chief Scientist for Watson/M at IBM Research, where he leads IBM's research and development for embodied cognition. Having originated the term and the practice of object-oriented design, he is best known for his work in advancing the fields of software engineering and software architecture.
A co-author of the Unified Modeling Language (UML), a founding member of the Agile Allianc, and a founding member of the Hillside Group, Booch has published six books and several hundred technical articles, including an ongoing column for IEEE Software. He's also a trustee for the Computer History Museum, an IBM Fellow, an ACM Fellow and IEEE Fellow. He has been awarded the Lovelace Medal and has given the Turing Lecture for the BCS, and was recently named an IEEE Computer Pioneer.
Booch is currently deeply involved in the development of cognitive systems and is also developing a major trans-media documentary for public broadcast on the intersection of computing and the human experience.
(leer más...)
Fuente: [ tedx and other ]